[REPORTER] Visit Hongdae! - 박지유
7694
Lv. 2
♥ 40
♥ 28
♥ 0
---
jiyou0813
Modified : 2016-07-08 16:01:09
Visit Hongdae!
An Introduction to Hongdae's Hot Places
Museums, Shops, Cafes, and Street Performances
I have participated in Seoul Tourism Association's mobile tourist information program as a volunteer for about 4 months in 2014. The place where I was supposed to guide was 'Hongdae', the hot place for young adults and foreigners. (The word 'Hongdae' refers to both the university and the area around it.) The Hongdae area is a very intriguing place with its unique shops, cafés, and restaurants, but at first sight, it may look like a 'chaotic' place because it is difficult to find way in such a complexity. Even though my experience as a volunteer guide in Hongdae was quite short, I have learned a lot about the area thanks to many people, and I would like to share the experience by introducing some of the most popular shops and services (especially to foreigners) in Hongdae.
Before I move on, I would like to briefly introduce the mobile tourist information program by Seoul Tourism Association. Usually, when we think of a tourist information, we think of a little booth in a famous tourist site with guides sitting there and distributing maps or answering questions. However, sometimes this tradition doesn't work well, especially in some hot places for people from different parts of the world. Therefore, in 2009, Seoul city decided to change the tradition by the mobile tourist information program, starting from Myeongdong where a lot of Japanese tourists visit. And the program spread to various parts of Seoul, including Hongdae, Namdaemun, Dongdaemun, Itaewon and more.
Usually, the 'mobile' tourist guides wear red uniforms with the letter 'i' on them and stand in a particular spot of the area. And they will gladly answer to people who are having difficulties in finding way in the area. They help with introducing the area's famous restaurants, shopping items, tour sites, reservation and other personal problems. Japanese, English, Chinese, and Korean are available in the service. If you meet them by any chance when you are wandering around not knowing what to do, don't hesitate to ask them questions. With free maps, fluent language, encyclopedic knowledge of the area and a big smile, they will always welcome your questions and will try their best to give you the best information as possible.
Volunteering for this program was a wonderful experience. I wore orange uniforms for volunteers (they were always very big because the uniforms were made for adults) and a bag full of maps and highlighters. I really learned a lot about reading maps, talking to foreigners, and trying hard to serve each one with fair and accurate information. I wholeheartedly recommend people to volunteer for the program if they want such experience. Anyone who has the eagerness to help people - equipped with fluent language skills - can apply for the volunteer work, regardless of your nationality or gender. For more information, visit the official website of Seoul Tourism Association from the link below.

▲ Mobile Tourist Information[award.visitkorea.or.kr] 저작권 문제 없음
Anyway, let me share some of the most asked questions or tour sites in Hongdae during my experience as a 'mobile' tour guide. The most frequently asked question was, "Where is the free market held?" The free market is held in Hongik University Playground Park(19-3, Wausan-ro 21-gil, Mapo-gu, Seoul), right beside the main gate to Hongik University. Since 2002, the free market has been the icon for Hongdae's spirit and culture for youths. In a day, about 150,000 people visit the freemarket due to the various programs that are available there. Artists display and sell their handmade works which include accessories, notes, pottery, portraits and more. Also, people can enjoy the performance of artists who volunteered to participate in the afternoon stage. The afternoon Stage is an open ground that artists can meet people with music, dance, performance, and more. People who enjoyed the stage can put some change in the Tip Box as well, which will be a great encouragement for the performers. Besides these two, Living Art Tours, Living Creation Workshops, and other special campaigns are available in the free market.
Regardless of the participant's age, major, or experience, anyone who achieves creation in life can participate in the free market if they registered for it. The free market is opened on every Saturdays from March to November at 1 p.m. to 6 p.m., but will be closed when it rains. Those who want to learn more about the free market or are willing to participate can visit the official website (http://www.freemarket.or.kr/) which is also available in the link below. Visiting the free market will be a great opportunity to be inspired by the artworks, and overall, to have fun!

▲ Hongdae's Free Market[www.freemarket.or.kr] 저작권 문제 없음

▲ Live performance in the free market[korean.visitkorea.or.kr] 저작권 문제 없음
The next frequently asked question was about the Trick Eye Museum. The Trick Eye Museum is a museum which features oversized optical illusion paintings and installations. Such paintings, which are drawn on flat surfaces come to life through the use of optical illusions. Visitors are more than welcome to touch the paintings and take pictures in front of them in creative postures. There are mainly six interactive zones which are named as the masterpiece, fantasy, adventure, comic, romantic, and bon voyage zones. Also, various programs including workbook activities are available for children as well. The reminiscence of visiting the museum really remains for a long time, because all the fun you've had will be stored which looks even livelier than what you might have seen with your eyes in the museum. The Trick Eye Museum is on B2F of the "Homi Huabang" building and is about 700 pyong(평) large.

▲ Trick Eye Museum[www.jejusori.net] 저작권 문제 없음

▲ Trick Eye Museum[www.centralhongdaehostel.com] 저작권 문제 없음
Now, I will move on to the two most famous shops for shopping that were both asked a lot of times. And please be noted that I did not choose these shops based on any objective evidence or any relationship with the shops. I chose these shops solely because I was asked a lot of questions regarding them, but it doesn't mean that they are the most popular shops than others in Hongde.
The very first shop I'd like to introduce is the shop named "Style Nanda(스타일 난다)". Style Nanda first began in 2004 as an online shopping mall, so the shop in Hongdae is actually a "flagship store" of the brand. Style Nanda's fashion is very unique due to their efforts to differentiate their products with others and to create brands within the brand such as KKXX, and 3 Concept Eyes. Style Nanda is a very famous brand globally, especially in China and Hongkong because of its successful marketing. So a lot of foreigners, especially Chinese, tend to visit the flagship store. The store is a three-storied building, and it opens at 11 a.m. and closes at 11 p.m.

▲ Style Nanda Exterior[bntnews.hankyung.com] 저작권 문제 없음

▲ Style Nanda's 3 Concept Eyes[m.jobkorea.co.kr] 저작권 문제 없음
Another famous store for shopping is called "A Land". A Land Co. has been presenting a variety of fashion cultures to many people as multi-brand store with new fashion designers. Therefore, the brands/items that can be found in A Land are very fashionable and are closely tied to the popular fashion trend. A Land sells nearly everything-clothes, bags, shoes, stationary items- that can be touched by a designer's sense.
The A Land building in Hongdae is quite big as it's a nine-storied building (B4F ~ 5F). From floors 1~4, women and men's clothes and accessories are sold, and on the fifth floor, they exhibit garden artists' works. Also, there is a lounge club on B1F and a theater for Nanta performance on B2F and B3F. The exterior of this building is very unique as well. With the name "Yellow Stone", the irregular shapes of glasses which reflects yellow light surround the building. This unique exterior creates a lot of fabulous looks based on the sun's altitude in the daytime.

▲ A Land Exterior[yevvonh0ng.egloos.com] 저작권 문제 없음

▲ A Land Interior[realestate.daum.net] 저작권 문제 없음
Hongdae is not only famous for its variety of stores but its variety of cafes as well. Many famous brands such as Starbucks and Ediya Coffee can be found in Hongdae, but some cafes are also acting as famous tourism spots. And I will introduce two of such cafes. The first one which most people may be familiar with is the Hello Kitty Café. As apparent from its names, Hello Kitty Café is literally a café that is covered with Hello Kitty. In the pink two-storied building, cafes and shops that sell Hello Kitty items are composed for various visitors. Every year, a lot of visitors drop by the Hello Kitty Café, and is very popular amongst foreigners too, since 30% of the visitors are foreigners.
In the café, about everything is either in pink or covered with Hello Kitty, but mostly both options can be found in various items there. If you order something from the café, probably your latte will have Hello Kitty's face on it and your waffle will be shaped like Hello Kitty. The pink couches and chairs in the café are all pink and some couches even look like Hello Kitty. The same thing happens in the gift shop, too. In the gift shop, there is a gigantic doll named Hello Kitty Island Special Doll which cost 480,000 won! If you want to experience a world made of Hello Kitty (and you probably will), visiting this café may come out to be very satisfactory.

▲ Hello Kitty Cafe Exterior [pinsta.me] 저작권 문제 없음

▲ Hello Kitty Cafe's latte art[rupil.egloos.com] 저작권 문제 없음
Another very popular café is 'The First Coffee Prince Café' which was the filming site of a very popular drama called 'The First Coffee Prince' in 2007. Until now, a lot of tourists visit there in reminiscence of the drama they enjoyed. There are a lot of celebrities' signatures on the wall and small props, and a few pictures that can remind the drama are also hung on the wall. For those who want to spend leisure hours feeling like Yun Eun-Hye or Gong Yu who starred in the drama, visiting the café may be a great experience.

▲ The First Coffe Prince Cafe Exterior[www.onedaykorea.com] 저작권 문제 없음

▲ The Drama "The First Coffee Prince"[sooyeonworld.tistory.com] 저작권 문제 없음
Known as the hot spot for "Young Artists", Hongdae is very famous for its live street performances. Some places where a lot of street performances take place are the pedestrian-friendly street (H&M ~ Innisfree), the Hongik University Children's Park, as introduced previously, and near the subway stations. Watching such street performances may be a great experience to be exposed to some great artists with an artistic creativity that is very different with famous artists of the present. The live street performances that happened around Hongdae really play a key role in making Hongdae to be fuller of music, liveliness, and the artistic mood which has been a long-lasting characteristic of Hongdae.

▲ Live Street Performance in Hongdae[isplus.live.joins.com] 저작권 문제 없음
I've only spent twelve Saturdays in Hongdae as a volunteer, but I could really feel such mood from the very first day I've visited there. And I have also sensed that I don't fit well in such mood as well. Hongdae is a beautiful place with lots of creative artists and shops, but it was certain that as a middle school student, I could not participate in some live street performances or buy stuffs in cosmetic shops freely. I wasn't even interested in them. Therefore, at first, Hongdae was only the area I wanted to know better simply because I did my volunteer work there. But this thought gradually changed.
One day, when I was standing on the pedestrian-friendly street as usual, a zombie festival was held in Hongdae with a lot of foreigners dressed up like zombies marched along the street. Suddenly, two-three zombies came to me and one of them took a picture of me and other zombies together. I gladly took the offer. And then, a zombie asked me if I knew where the other zombies went since I was the volunteer tour guide, and I pointed the way. That was the first time I realized that once I was standing on the area, I was a part of it too. As I interacted with more and more people and answered questions of more tourists, I began to really like the area instead of feeling exotic. Some people asked me certain things like my age, and some offered to take pictures with them, and some even praised me for being good at English, and I was so grateful each time.
If there's anyone who is afraid of getting lost or participating in such an artistic mood, thinking they'd not fit in there, I would definitely recommend to give it a try. Hongdae's fame is not vain.
Reporter Jiyu Park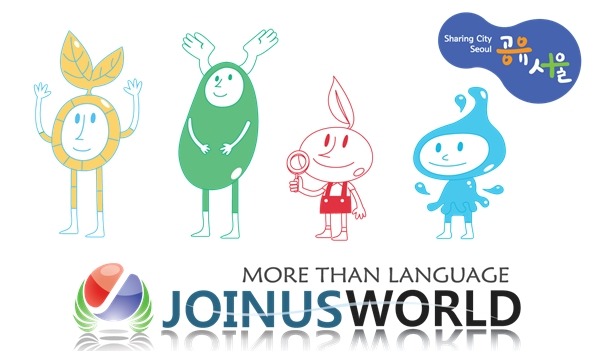 "다국어&다문화 지식공유/교류 커뮤니티" 운영 IT NGO
MULTILINGUAL KNOWLEDGE EXCHANGE & SHARING COMMUNITY
조인어스코리아는 국내 최대 29개 '국경 없는 언어문화 지식교류활동가'(JOKOER)를 회원으로 하는 NGO로써,
지식을 통해 세계인과 교류하는 다국어&다문화 지식허브 커뮤니티를 운영하는 순수 비영리 민간외교 단체 입니다.
jiyou0813
Lv. 2
♥ 40
♥ 28
♥ 0
Mostly used tags : 에르도안 대통령 쿠데타 터키 america South Korea
Language : English, 한국어
Location : Seoul
Bio : Thank you for popping over to say hello! I am a teenage girl living in Seoul. My interests are politics and international relations.
blog.naver.com
www.trickeye.com
https://books.google.co.kr
www.freemarket.or.kr
www.sta.or.kr
bntnews.hankyung.com
www.a-land.co.kr
Lv. 3
♥ 99
♥ 0
♥ 0
---
aejineom
Modified : 2015-06-07 04:24:54
Lv. 10
♥ 262
♥ 190
♥ 0
---
unnamed
Modified : 2015-06-07 10:47:55
Lv. 2
♥ 13
♥ 24
♥ 0
---
Dahee Seo
Modified : 2015-06-08 08:13:29
Lv. 28
♥ 1446
♥ 468
♥ 0
---
조인어스 코리아
Modified : 2015-09-02 00:22:07
Lv. 1
♥ 10
♥ 0
♥ 0
---
nahyuni0102
Modified : 2019-08-16 12:36:24
Most related